The Threat of Tux!!!
Universally acknowledged (even by Redmond) as the No. 1 threat to Microsoft dominance in the OS market.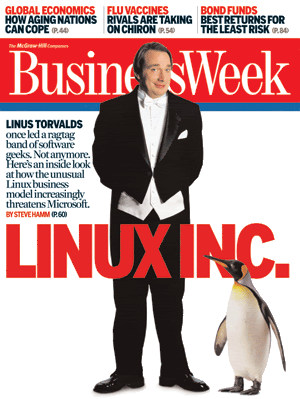 BW has taken a lengthy look at how Linux was developed and the potential impact on the incumbent player in the market.

Put it all together, and Linux has become the strongest rival that Microsoft has ever faced. In servers, researcher IDC predicts Linux' market share based on unit sales will rise from 24% today to 33% in 2007, compared with 59% for Windows -- essentially keeping Microsoft at its current market share for the next three years and squeezing its profit margins. That's because, for the first time, Linux is taking a bite out of Windows, not just the other alternatives, and is forcing Microsoft to offer discounts to avoid losing sales. In a survey of business users by Forrester Research Inc., 52% said they are now replacing Windows servers with Linux. On the desktop side, IDC sees Linux' share more than doubling, from 3% today to 6% in 2007, while Windows loses a bit of ground. IDC expects the total market for Linux devices and software to jump from $11 billion last year to $35.7 billion by 2008.
"Tux" (pictured above) is the group's mascot - a friendly pint-sized penguin :)

http://www.businessweek.com/@@nTrCoIQQXvrwlQwA/magazine/content/05_05/b3918001_mz001.htm


For a complete list of Cotton Green blogs see http://cottongreen.blogspot.com/